1. Kansas City Chiefs Select, OT Luke Joeckel, Texas A&M
From Bleachreport.com
The poor Kansas City fanbase has spent years waiting for the opportunity to finally draft their own franchise quarterback. Finally, all the cards fell into place as the Chiefs would up with the first overall pick, despite having a very talented overall rosters. That's right, they only had one need, a QB, and that can easily be filled on any given year by having the number 1 pick right? Leave it to the team that has not drafted a first round Quarterback since 1983 (when they chose the worst quarterback out of the most talented QB class of all time) to finally land the first pick in a year when there are no viable first overall pick quality QB's. In this case, it is best served for the Chiefs to pick the best overall player in the draft, which as of now appears to be Texas A&M LT Luke Joeckel. A technically gifted lineman who come out of the SEC and projects to have a solid long career.
2. Jacksonville Jaguars Select, DE Dion Jordan, Oregon
From Draftbrowns.com
The Jacksonville Jaguars selected a first round QB just two years ago when they picked Blaine Gabbert, unfortunately that pick has failed and has left the Jags in the same boat as the Chiefs. They are in need of a QB in a draft with no quality QB's available. Instead, the Jags take the chance to draft an electric pass rusher the anchor their defense.
3. Oakland Raiders Select, DT Shariff Floyd, Florida
From 49erswebzone.com
The Oakland Raiders have needs all over the place, so the best thing they can do is pick the best overall player available and work from there. Fortunately, the best player available in this case might also be the Raiders largest need. Shariff Floyd shows all the signs of being a dominent force on the defensive trenches for years to come and he can fill a hole made by the Raiders releasing Tommy Kelly and voiding the contract of Richard Seymour.
4. Philadelphia Eagles Select, OT Eric Fisher, Central Michigan
From philly.com
The Eagles have the opportunity to twist the knife a little more on Andy Reid after firing him by potentially selecting a better tackle than Reid did with the first pick. The Eagles are in desperate need of help on their line especially after Jason Peters tore his Achilles Tendon. Fisher is a great athlete that will be able to get out on the edge in a high flying offense. He very well could be a better option than Joeckel, but will likely go after him because of weak college competition.
5. Detroit Lions Select, OT Lane Johnson, Oklahoma
From insider.espn.go.com
Lookout folks because the run on tackles is in full swing. The Lions largest and most valuable asset still remains to be Matt Stafford who has battled an injury history and has had some up and down swings so far in his career. They know that they have to protect him and buy him more time to throw to Calvin Johnson. They surely would've wanted to snag a D Lineman here, but with tackles already flying off the board the Lions are forced to take care of this need earlier than expected.
6. Cleveland Browns Select, CB Dee Milliner, Alabama
From overcometheworld.me
The Browns can go 1 million different ways here at the 6th pick but Dee Milliner is the one that prevails. The Browns need a lot of help on offense at their WR and OL positions but this pick is made because of division the Browns are playing in. Knowing that they will be facing Big Ben, Joe Flacco, Andy Dalton, and 2 times a year the Browns decide to stack their Defensive Backfield with the Premiere CB in this draft. Although, Milliner is no Patrick Peterson, he is a phenomenal CB and because of where he comes from he is as Pro-Ready as a player can be. Pair Milliner up with Joe Hayden... The Browns have a scary combination for the QB's in the AFC North.
7. Arizona Cardinals Select, OG Chance Warmack, Alabama
From nepatriotsdraft.com
The Cardinals have FINALLY FOUND THEIR QB! Well, at least they think so, but then again they thought they found that in Kevin Kolb. Regardless of who they have as the Signal Caller in the Desert, they need to get protection for him. The Cards led the NFL in sacks given up with 58 just a year ago, so this pick is a no-brainer. Best OL available is picked right here, which some regard as the best overall player in this draft.
8. Buffalo Bills Select, QB Ryan Nassib, Syracuse
From dynastyfootballwarehouse.com
This pick is the pick that you really dont want to make because the Bills need so much help. But their biggest and most glaring need is obviously QB. Well if you side with everyone in the NFL world, there is not many QB's worth a first round pick on, but as we all know, once 1 QB goes, there is always a run of many more. I wanted to go elsewhere with this pick because I think Nassib would be there in round 2 but when your guy is available, you go get your guy. This is a perfect scenario and very reminiscent of Ryan Tannehill just a year ago. The new head coach of the Bills is Doug Marrone who just so happened to coach Nassib at Syracuse. Im banking on the fact that Marrone wants his boy to play ball in Buffalo and here they make it happen at #8. Realistically, I think the Bills do something else at 8, but they will trade up and get Nassib at some point in this round.
9. New York Jets Select, DE/LB Zeke Ansah, BYU
From bleacherreport.com
Rex Ryan loves defense and loves pass rushers. Ever since Rex has come to New York he has tried to find that elite pass rusher, although to no avail. Zeke was the highest rising player in this draft because of his freakish skill set and have only started playing football in the last few years. This kid has a ton of potential and look for Rex to salivate and eventually tattoo his wife wearing Zeke's jersey on his other arm. This is a perfect fit for the Jets at #9.
10. Tennessee Titans Select, DT Star Lotulelei, Utah
From espn.go.com
The Titans havent been the same since they lost Fat Albert (Haynesworth) a few years ago. They have lacks a presence in the middle of that defense, a presence that is extremely needed. Star Lotulelei was regarded as a Top 3 player before he got pulled from the combine for a heart issue. Everything has been checked out and he has been cleared. Look for this kid to be one of the biggest surprises of this draft. He is a high pick but but has the talent and domination to be the number one overall pick. The fastest way to build a team outside of QB is by building the middle of you offensive and defensive lines. Good pick up here for Bud "Middle Finger" Adams.
11. San Diego Chargers Select, OLB Jarvis Jones, Georgia
From espn.go.com
Doesn't it seem like every year a stud defensive player falls into the Chargers lap? Jarvis Jones' stock has fallen a little lately, but just a couple of months ago several considered him to be one of the top 5 players in this draft. This guy is a monster off the edge and could give the AFC quarterbacks yet another guy to be afraid of in a division stacked with quality pass rushers. The Chargers could have gone several places here, including getting a weapon for Philip Rivers in Tavon Austin, or taking one of the interior offensive and defensive linemen on board, but its hard to pass up the high ceiling of a guy like this.
12. Miami Dolphins Select, WR Tavon Austin, West Virginia
From bleacherreport.com
Much like the Chargers, there are several ways that the Fins could go here. They could take Jonathan Cooper to improve their interior line, but they likely will have already improved the line quite a bit come this pick after the imminent Branden Albert trade goes through. They could take Xavier Rhodes or Kenny Vaccaro to bolster their weak secondary. Or, they can continue to surround their young QB with playmakers. Tavon Austin has huge playmaking potential and has even begun to be considered worthy of a top ten pick. It would be hard for the Dolphins to pass on him at 12.
13. New York Jets Select, QB Geno Smith, West Virginia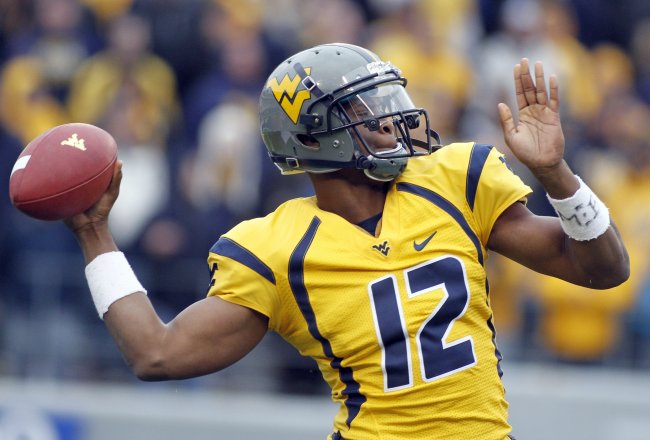 From bleacherreport.com
WOAH! The Jets surprise everyone by taking Geno Smith here. Everybody knows how bad the Jets QB woes have been, and with Ryan Nassib going off the board way ahead of his graded slot the Jet might fear a run on QBs that will leave them without one. So Rex Ryan will try to revive the Jets with Geno Smith who has been evaluated as being similar to everything from Donovan McNabb to Alex Smith to Akili Smith. This is a high risk/high reward type pick that the current Jets regime will make to try and save their futures. Go big or go home.


14. Carolina Panthers Select, DT Sheldon Richarson, Mizzou
From nbcdfw.com
He probably still can't spell or do math but Sheldon Richardson can certainly terrorize offensive lines. Richardson is a rare combination of strength, speed and athleticism at the DT position that could help him become a force in the league for years to come. They could have easily taken a CB like Xavier Rhodes here, but the talent that Richardson brings to the table is too hard to pass up. The Panthers should be thrilled to have finally filled a hole at a position that has been mediocre or worse for them for years.
15. New Orleans Saints Select, OLB Barkevious Mingo, LSU
From nfl.com
To me, this seems like an obvious choice. The Saints are shifting to a 3-4 defense and need a stud on the outside to start the transition. Mingo is tall and lean, yet physical and quick enough to develop into a top-notch pass rusher in a 3-4 scheme. Kiki is a raw talent as he played mostly DE at LSU, but in the NFL is projected to be an Aldon Smith clone. Thats exactly what Kiki Mingo is, a tall, lean, fast, rush end/linebacker. He will fit perfectly in this roll but expect to see some growing pains for Kiki, but a great career in the long haul. The Saints might also have interest in a defensive back like Kenny Vaccaro or Xavier Rhodes here as well.
16. St. Louis Rams Select, Kenny Vaccaro S, Texas
From espn.go.com
This is a luxury pick for the Rams because there is a good player available for every position of need they have. The Rams need a RT, OLB, S, and WR. Tavin Austin is their guy and who they want desperately but, he is gone at this point. Therefore, they go with Vaccaro here because of the depth of OL and LB in this draft. The Rams could easily get an OT or an OLB with their 2nd First round pick instead of reaching for one here at 16. The "Experts" say take Alec Olgeltree here but I differ in opinion because the last thing I want to do here at pick 16 is take a Middle Linebacker, move him to OLB and hope he pans out. After adding Cortland Finnegan and Janoris Jenkins last year, they have a very formidable Defensive Secondary, but desperately need a ball hawking safety to sure up that defense. Vaccaro is the guy and one of 4 safeties that will go on the first 2 days of the draft. Need pick in a small market makes a good move here by St. Louis.
17. Pittsburgh Steelers Select, Eddie Lacy RB, Alabama
From ontheclocknfldraft.wordpress.com
I think the Steelers trade back a few picks to make this easier but they need this guy BAD. Rashard Mendenhall is a free agent after this season and after his many inconsistent seasons including last year, they need to bring a guy in that can take a more consistent roll at the RB position. Big Ben lost his #1 target Mike Wallace this off season which hinders this offense even more. They need a pounder to create a good run game to give Big Ben a little more help in mixing it up. Lacy is a strong, powerful back with great size and acceleration. If you watch any film from his college career you will see he seems almost untouchable. He is know for his spin move and his bursts through the point of attack. Great pick up here and adds multiple dimensions to this team from day 1.
18. Dallas Cowboys Select, Jonathan Cooper G, North Carolina
From

acc.blogs.starnewsonline.com
The Cowboys just signed Tony Romo to a BIG extension, they need to protect their assets. The interior of the Cowboy's offensive line is atrocious and can improve greatly here at this pick. The Cowboys can go 3 ways here as they desperately need a C, RG, RT, and some DT help. Although, the biggest need of them all is that interior offensive line. The 2nd best OG in this draft is available at 18 and the Cowboys have no other choice. If they cant keep Romo in the pocket, this team has no chance of succeeding.
19. New York Giants Select, Xavier Rhodes CB, Florida State
From itiswhatitis.weei.com
The Giants need DB help badly. Prince Amukamara has been a big time disappointment, Terrell Thomas cannot stay healthy, and Corey Webster is not a #1 shut down CB. They have tried desperately over the years to fill this void and will give it one last try here with the tall, strong Corner Back Xavier Rhodes. Rhodes is a play maker and has been since his first day on campus at Florida State. He is a ball hawk with good size and ball skills, giving him the skill set to play man, zone, and even tackle. Worst case scenario here is Rhodes because mediocre and then the Giants have 4 slightly above average CB, which is still alot better than most teams in the NFC.
20. Chicago Bears Select, DJ Fluker OT, Alabama
From chicago.cbslocal.com
The experts say Tyler Eifert here to replace the production lost from Greg Olsen a few years back. But they're overlooking the Bear's greatest need for the past 3 years. Cutler has been murdered by opposing defensive lines. If I'm the Bears brain-trust I use every pick this draft to rebuild my offensive line. They start here by getting a great tackle in DJ Fluker. He has gone up against the best at Alabama including handling Kiki Mingo and Sam Montgomery and fared quite well winning 3 National Titles. Fluker keeps Cutler off his back twice as often as last year if he is picked here. No Brainer.
21.Cincinnati Bengals Select,
Jonathan Cyprien, S, Florida International
From nepatriotsdraft.com
There are two things the Bengals desperately need at this pick, a Safety and a Linebacker. The Bengals gambled on Vontez Burfcit last year and struck gold but the rest of their linebacking core, Ray Maualuga and Manny Lawson have greatly under-performed. Due to that I desperately wanted to pencil in Alec Ogletree here until, they went out and sign James Harrison. They still have a need at Linebacker because of how slow and at times terrible Maualuga is but this is a LB class that go 3 to 4 deep in 1st/2nd rounder caliber players. After that there are two thing they can do here, go safety, or take best player available, which in my mind is Cordarrelle Patterson, who would be a great compliment to AJ Green. Although the final decision comes down to suring up the defense. They drafted Dre Kirkpatrick last year and have Reggie Nelson at FS but they have had a revolving door at SS for quite some time. Here they sure that up with Cyprien. Cyprien is a small school standout who really caught some eyes at the Senior Bowl for his aggressiveness in the box and his ability to also defend the pass very well. The Bengals are known for the dramatic pick, so this year they stick with their ways and take Jonathan Cyprien to fill that gaping hole that is needed when facing Flacco, and Big Ben 2 times a year.
22. St. Louis Rams Select, Cordarrelle Patterson WR, Tennessee
From dynastysportsempire.com
The Rams have desperately sought out for a big play WR for years. Unfortunately they have been to busy rebuilding their entire franchise. Now that they have secured they're franchise QB and 2 great OT in Saffold and Long, the Rams can finally take a deep breath and take their biggest need which just so happens to be Cordarrelle Patterson. Patterson only spend one year in major college football as he transferred to UT from JUCO in 2012, although, in his short time with UT he showed flashes of greatness. Don't get me wrong, Patterson is not a polished WR that will come into the league and be Calvin Johnson, but he does have the talent to be great. Patterson needs reps and needs to be coached up a bit, but what he brings to the table is quick, explosive, play making ability while standing at a stout 6'2" 216lbs. Patterson is a big versatile receiver that once the ball is in his hands he can make anything happen.
23. Minnesota Vikings Select, DeAndre Hopkins WR, Clemson
From www.elonpendulum.com
The Vikings traded away Percy Harvin and have nobody else for Christian Ponder to throw to on the outside. This calls more an immediate attempt to fill that void. The Vikes take DeAndre Hopkins at this pick because of his play making ability. Not many people knew who Hopkins was until he exploded in the Chick-fil-a Bowl against LSU, but ladies and gentlemen, he has arrived. Hopkins can be summed up by a short phrase of "Hands for Days. ESPN sports science just did a special with Hopkins and show that his hands are 20% larger than the average human hand. At one point that put him in front of a jugs machine and he accomplished 48 consecutive
one handed catches, one of which was 2 yards away from him. To make this catch they showed he has a .014 second reaction time to make this catch. Plain and simple, he is a play maker and that is what the Vikes need most.
24. Indianapolis Colts Select, Bjoern Werner DE/OLB, FSU
From stache24.com
The Colts have just about filled every position of need through free agency but there is one large hole that they need to at least
add depth to. For nearly a decade the Colts had the
assurance
of one of the premiere pass rushers in the game with Dwight Freeney. Bu now that Freeney is gone the Colts are bolstering Corey Redding at DE and putting Eric Walden at OLB. Although this is not a bad combination, neither are great pass rushers. Here in lies my case for Bjoern Werner with the Colts first round pick. Werner was at one point regarded as a top 5 player but has since dropped. Although, what I love about Werner is his
versatility
At FSU he stood up at OLB and rushed the QB, but also put his hand down and rushed from the DE position. Werner has a high motor is a gritty guy, which I think mends well with the new look Colts.
25. Minnesota Vikings Select, Sylvester Williams DT, UNC
From acc.blogs.starnews.com
The Vikes have already secured their play making
receiver
to replace Percy Harvin, now they need to fill the hole left by Pat Williams who retired today as a Viking. They need a young DT to step in next to Kevin Williams who is again but is still productive. Oddly enough, the Vikes can retain the Williams wall by adding Sylvester here with their 2nd pick in the first round. Williams is a strong good looking kid from UNC who in recent years have punched out DLine men more than any school other than LSU. The Vikes could also suprise and take a MLB here in the likes of Kevin Minter or Manti Teo both of whom the Vikes have shown interest.
26. Green Bay Packers Select, Justin Hunter WR, Tennessee
Seems as though many people are picking the Packers to take a wide receiver with this pick, and for obvious reasons as one of Aaron Rodgers go to guys, Greg Jennings, departed this year for division rival Minnesota Vikings. Justin Hunter is a tall lanky receiver with an ability to go up and get it. He seems to be in that category of late-round receivers that have heavy boom or bust potential, luckily for him and the Packers he has much more potential to pan out thanks to the MVP caliber arm that will be throwing to him.
27. Houston Texans Select, Tyler Eifert TE, Notre Dame
Everybody knows that the Texans desire a wide receiver to lineup opposite of Andre Johnson, in fact, Andre even requested it himself. Unfortunately for the Texans, three of the best receiver options have been taken. Still on the board are Cal WR Keenan Allen, or USC WR Robert Woods, who each have been given first round consideration by many. I would imagine they would settle with one of them in most cases, but there is a glaring name still on the board as well. Tyler Eifert has a much higher all around grade that the available receivers at this point, and still has an ability to greatly help the passing game in Houston. Despite Houston's ability in the past to develop late-round Tight Ends, the talent that Eifert brings is too hard for Houston to pass up with the 27th pick.
28. Denver Broncos Select, Darius Slay CB, Miss St.
UPDATE:
It has been reported that Slay tore his meniscus but will not require surgery. This could scare away a team from picking him in the first round but I think Denver likes him enough to work through it. If they do get scared, look for Denver to take DJ Hayden out of Houston or Trufant out of Washington, both smaller corners but the skill to be an NFL shut sown corners.
This pick is tough as there is a plethora of CB's that aren't separated by much. If there is one thing we have seen from John Elway's leadership is picking the guy that fit's their system best and not necessarily who all the experts think is best. My expert pick would be Trufant, he has NFL pedigree and is all around a solid corner. The only thing that keeps him out for the Broncos is he does not have very good size and isn't that physical. Denver has been outspoken about being intrigued by what is going on in Seattle in that big, tall, physical corners are the way to go. Slay is a kid that caught a lot of eyes at the combine because of his size, speed, and ball skills. Slay is a 6' CB who runs a 3.4 and is extremely athletic being a converted RB. I like this pick because Slay can jump right in and contribute, but will not be thrown into a #1 or #2 starter job. Perfect match for the team and the player.
29. New England Patriots Select, Keenan Allen, WR, Cal
In recent years, Wide Receivers have not been as valued in the first round, however there is a good chance that this first round has a run on wide receivers because there are several guys at similar talent levels as well as several teams with wide receiver as a top need. The Patriots have their anchor tight ends and Danny Amendola on the inside, but they need someone to stretch the field on the outside. They get a tremendous value here with Keenan Allen, who is thought by some analysts as the second best receiver in the class. He gives Brady a more physical downfield threat when not throwing to his slot receivers or tight ends.
30. Atlanta Falcons Select, Sam Montgomery, DE, LSU

The Scouting reports on Sam Montgomery seem to swing all over the place. Some are very high on him, some are very low on him. I see him as a good option for the Falcons and their pass rushing woes. This is a good spot to take a guy who can develop behind some veterans and get in on pass rush packages. Sam Montgomery's size and physicality bring a lot to a defense, especially if he can play a little looser.


31. San Francisco 49ers Select, Tank Carradine, DE/OLB, FSU
Tank Carradine missed a lot of the pre draft process while rehabbing a torn ACL surgery. The concern over that may have scared several off, but once Carradine finally worked out he was very impressive. The torn ACL is slowly becoming a full recovery type injury as we have seen several athletes come back even better such as Adrian Peterson and Jamaal Charles. Carradine's size, strength, and athleticism make him a great weapon on the edge for the 49ers, and this should be considered a steal if he falls to here.
32. Baltimore Ravens Select, Manti Te'o, ILB, Notre Dame
Ok so let me just get this out there, we know this guy is kind of weird. However, I think that Ozzie Newsome will have the ability to look past the controversy and the underwhelming combine results to understand that Te'o is capable of anchoring a defense in the middle. The departure of Ray Lewis leaves a gaping hole in the middle of the vaunted Raven defense, however, the system is still one that can consistently develop linebackers, and it is a great fit for a guy like Te'o who has talent and is in need of rebuilding his image. Plus, the guy has a smokin' hot girlfriend! Wait....what?