With the seventh overall pick in the 2012 NFL Draft, the Jacksonville Jaguars select:
Melvin Ingram, Defensive End, South Carolina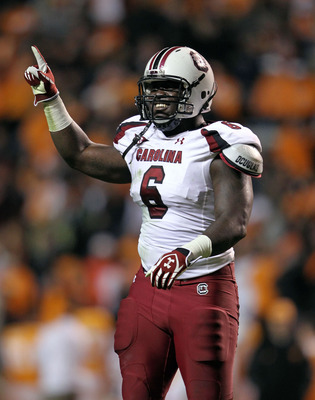 Coming into this offseason, the Jaguars had to know they needed to make a splash in free agency, via trade, or in the draft. They need to fill seats or the team could end up in Los Angeles. Fortunately, the perfect situation fell into their laps when Denver snagged Peyton Manning, but unfortunately Mr. Tebow chose to head to the Big Apple. The team didn't land any big names in free agency and now, with the seventh pick in the draft, they will settle for Melvin Ingram, a name that won't bring in many new fans but one that will hopefully improve a dreadful pass rush.
Ingram has a few weaknesses that worry NFL teams, including his short arms and below average height, but his explosiveness off the ball makes him worthy of a top-ten pick. The Jaguars hope he will shore up a defense that will need to play very well to keep this team in close, low scoring games.
The Miami Dolphins are now on the clock.
TK