With the 10th overall pick in the 2012 NFL Draft the Buffalo Bills Select:
Riley Reiff OT, Iowa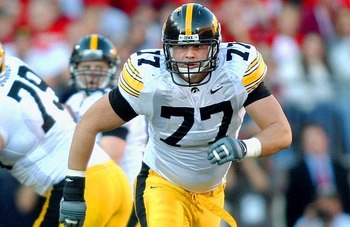 This is a difficult pick for the Bills to make as many talent evaluators are split on Reiff's abilities. A few, including ESPN's Todd McShay believe that Reiff is not an elite option at the tackle position. Others believe that he is a top ten pick.
While this pick may be a risk, it seems to be a better option than others at this spot. David DeCastro could only be used as a G while Reiff could be used at either G or T. Quinton Coples would be the best player available at the spot, and while the thought of lining him up across from Mario Williams is nice, it is probably not the most logical choice. The Bills need a WR opposite of Stevie Johnson but the top caliber WR options (Blackmon, Floyd) are already off of the board. The only other logical option would be a CB, but no corner truly stands out as a top ten pick, and it is a deep cornerback class anyway.
So ultimately Riley Reiff is the best option here for the Bills. He can help them in their quest to protect Ryan Fitzpatrick and could potentially develop into a top tier OT or OG for the Bills.
-Brett
The Kansas City Chiefs are now on the clock...