With the 11th pick in the NFL Draft, the Kansas City Chiefs Select:
Luke Kuechly LB, Boston College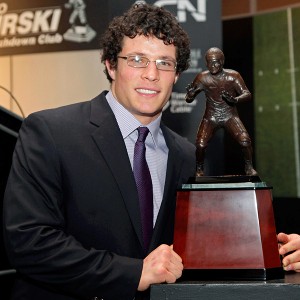 In Kuechly the Chiefs bolster their stout defense with a tackling machine, the best linebacker in this draft, and the best player available. The Chiefs only have one quality inside linebacker on their roster and that is pro bowler Derrick Johnson. Kuechly can take over Jovan Belcher's "mike" position and not only load up on tackles but improve the pass defense as well.
The Chiefs could have gone with a nose tackle here like Dontari Poe, but his stock has been falling as of late. The only other truly glaring need for the Chiefs is quarterback and no remaining quarterbacks are worthy of this high of a selection. Kuechly is a classic "Pioli" type player and will make an already good defense even better.
-Louie
The Seattle Seahawks are now on the clock